Sound-proof Safety Vacuum Laminated Glass for Windows
| | |
| --- | --- |
| Unit Price: | 500~1666 USD |
| Min. Order: | 10 Square Meter |

| | |
| --- | --- |
| Packaging: | in wooden case |
| Productivity: | 20000sqm/week |
| Brand: | ICESUN |
| Transportation: | Ocean,Land,Air,Express,Express |
| Place of Origin: | China |
| Supply Ability: | 100000 square meter per month |
| Certificate: | IGCC, SGCC |
| HS Code: | 70080010.00 |
| Port: | Shanghai,Qingdao |
Product Description
Sound-proof safety vacuum laminated glass has been widely recognized by people. Whether the sound insulation effect of modern living room is good has become one of the important factors for people to measure the quality of housing. Laminated vacuum glass can block sound waves and maintain a quiet and comfortable office environment. Its unique UV filtering function not only protects people's skin health, but also makes the valuable furniture and exhibits in the home get rid of the bad luck of fading. Vacuum building glass can also weaken the transmission of sunlight and reduce refrigeration energy consumption. Due to the advanced vacuum eye technology, ICESUN Vacuum Glass Ltd. has produced a series of products, including vacuum glass for buildings, vacuum glass for cars, vacuum glass for household and so on.
ICESUN Tempered Vacuum Insulating Glass is ultra-thin because it is constructed of two pieces of tempered glass with a narrow gap supported by metal pillars. It has higher resistance to deformation under external force, which doubles the wind pressure resistance and anti-shock effect compared with common vacuum glass and tempered Low-E argon insulating glass. There are some specific characteristics of ICESUN Tempered Vacuum Glass:
1. Basic Characteristics
Tempered vacuum glass consists two panes of glasses which are separated by an array of supporting pillars and welded together by glass at very low temperature. Vacuum between glass is 10-4Pa, where the heat convection does not exist, the heat conduction drops to minimum, with the LOW-E layer reflecting more than 95% of the infrared radiation, so the heat between the inner and outer glass plates can not be exchanged, and the excellent heat insulation effect is achieved. Tempered vacuum glass size: maximum 3000 x2000 mm; minimum 200 x200 mm; thickness 6~20 mm.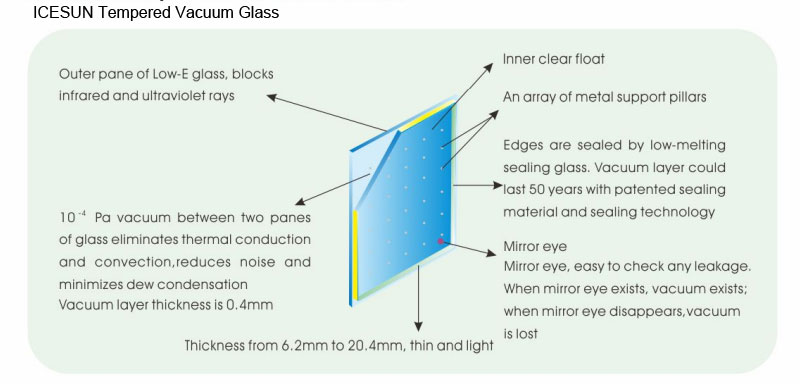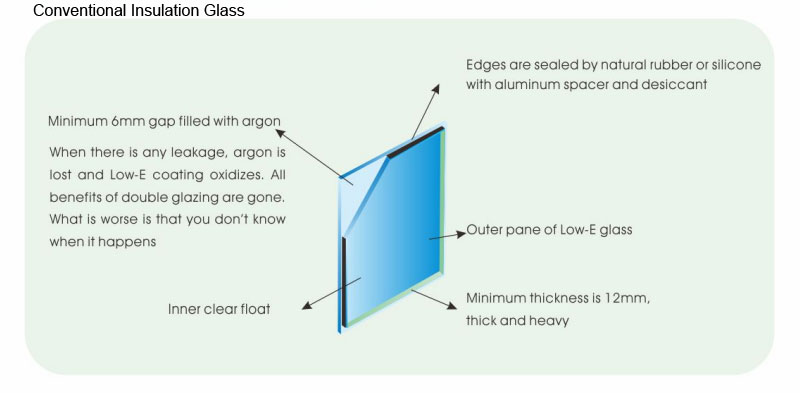 Table of technical parameters: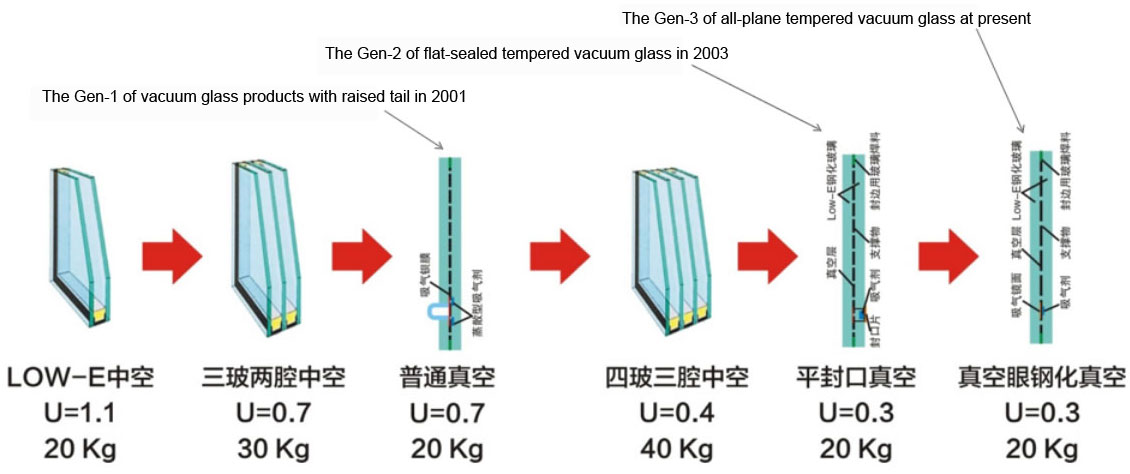 2. Science and Technology Innovation
2.1 Vacuum Eye
We have solved this worldwide problem 15 years ago. We set up this nail size vacuum eye at the corner of glass. When the internal vacuum is constant, the vacuum eye remains unchanged. When the vacuum degree drops, the vacuum eye becomes smaller. The vacuum degree disappears (when the vacuum glass leaks) and the vacuum eye disappears. The disappearance of vacuum eye indicates that the conduction and convection in the glass will increase greatly; it also indicates that the LOW-E film will soon oxidize and the radiation heat transfer will also increase greatly; at present, only ICESUN products have vacuum eye design (invention patents and trademarks are granted), which allow users to know the life of their windows at any time.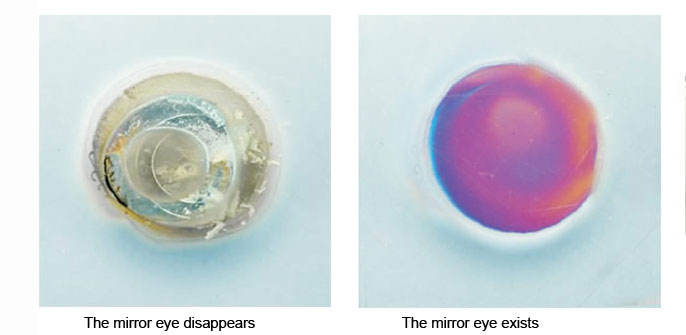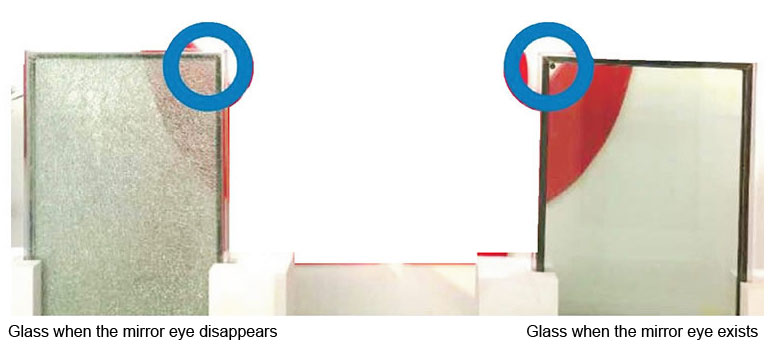 2.2 Low Temperature Welding
The welding process of low temperature glass retains the toughness of tempered vacuum glass, and the strength of glass is increased by 5 times. ICESUN tempered vacuum glass is tested in United States and granted SGCC safety certification.


2.3 Long Life, Resistance to Condesantion
Aerospace grade welded glass and tempered glass are perfectly combined to block gas leakage. 50 years of high vacuum, the low radiation energy saving activity of nano-silver film is perfectly preserved, the air leakage of organic glue and metal edge is avoided, and the international problem of LOW-E glass oxidation failure is cured by the US IGCC certification provement, dew condensation only appears at -30℃.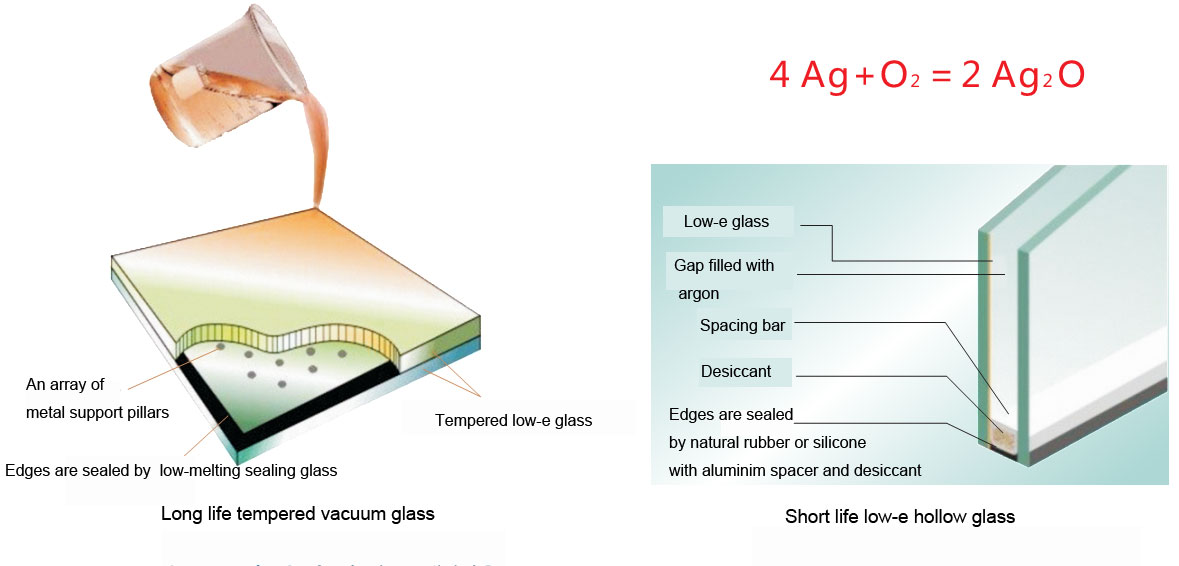 3. Basic Technical Features
3.1 Sun Protection
Tempered vacuum glass could reduce indoor glass temperature by 30℃, and nano-silver film could block infrared and ultraviolet. With these benefits family are kept away from air conditioning disease, and eyesight and skin are protected. We did one test that ICESUN tempered vacuum glass was installed in the test room, the indoor and outdoor temperature difference was 100℃, the test lasted 385 days continuously, the tempered vacuum glass was intact without damage, the deformation was only 1%, and the ultra-high insulation performance remained unchanged. This shows that tempered vacuum glass could be used safely in any harsh environments.

3.2 Resistance to Wind Scale 9
The wind resistance performance of tempered vacuum glass is twice as much as insulating glass. Tempered vacuum glass is an ultra-thin material formed by the connection of two panes of tempered glass and titanium alloy under atmospheric pressure. It has high deformation resistance under the action of external force. Our industrial tempered vacuum glass technology improves its wind pressure resistance and strength, far better than ordinary vacuum glass and argon filled tempered LOW-E insulating glass.


3.3 Sound Insulation and Noise Reduction
ICESUN tempered vacuum glass sound insulation performance is 11 decibels better than conventional insulating glass. The maximum sound insulation of tempered vacuum glass can reach 41 decibels. For different needs of users, we can compound hollow or glued glass to make super quiet transparent glass with strong sound insulation. Tempered vacuum glass keeps you away from noise hazards.


3.4. Protect the Eyes, Protect the Fetus
Eyes are sensitive to ultraviolet rays which can cause itching, tears, photophobia, redness, and other symptoms, causing a variety of ophthalmic diseases. All aspects of our life are inseparable from electronic equipment, which brings us convenience and electromagnetic radiation. This kind of electromagnetic radiation is still within the tolerable range of adults, but there are some effects on the fetus in the pregnant mother. ICESUN's electrostatic shielding tempered vacuum glass can convert electromagnetic wave absorption into heat energy, block electromagnetic wave outdoors and protect the healthy development of the fetus.

3.5. Suitable for Various Installation Angles and Elevations
When the installation angle of the glass window is 30℃, the insulation effect is reduced by 45%, and when the installation angle is 60℃, the insulation effect is reduced by 30% (the reason is that the distance from the hot side to the cold side becomes shorter when the installation angle becomes smaller). Whether installed on the roof or in any other position, the insulation performance of tempered vacuum glass does not decrease with the change of installation angle.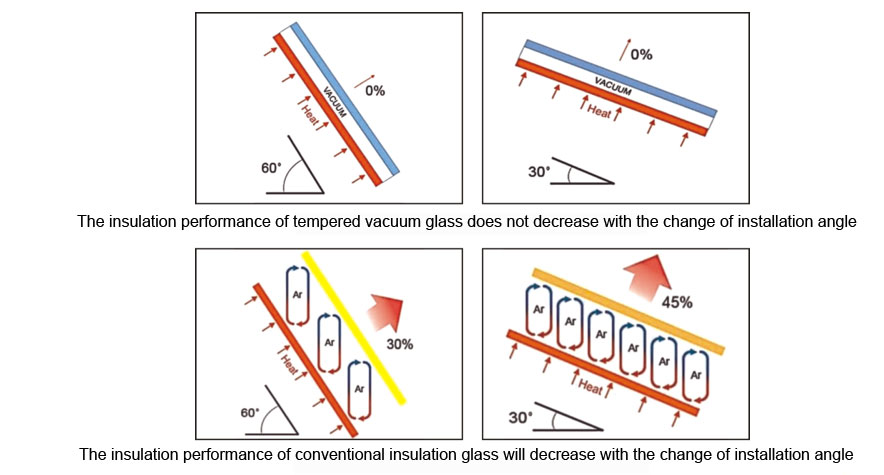 3.6. Ultra-light & Thin, Invariant
ICESUN 12.4mm tempered vacuum glass, compared with 20~50 mm conventional insulation glass is much lighter, which pose less pressure on structural frame materials, hardware components. Windows are not easy to droop and deform, and their service life is longer.

We have the only industrial tempered vacuum glass technology in the world.
ICESUN Vacuum Glass LTD. is a leading company who has been dedicated to producing vacuum glass products for many years. Our main products contain Tempered vacuum glass (TVG) for passive room, vacuum hollow composite glass for freezer, vacuum laminated glass for curtain wall, vacuum solar composite glass and so on.
ICESUN VACUUM GLASS LTD. is located in Chaoyang District, Beijing. Our company has a professional R & D team in Beijing and Zhengzhou, including 5 academicians and over 100 researchers. We have R & D, sales centers in Beijing and Zhengzhou, sales offices in Shanghai, Jiangsu, Shenzhen, Hunan, North America, Europe and professional production base in Mengzhou, Zhengzhou, Henan.
Through overseas customer testing, ICESUN tempered vacuum glass has superb insulation performance. The insulation performa'ce of 12.4mm tempered vacuum glass is better than 1.5 meter thick brick wall, and 10 times better than conventional insulating glass which is known as double glazing, and the life span is 5 times as much as conventional insulating glass.
In 2001, the first generation of vacuum glass products with raised tail was invented and applied for Chinese invention patent. In 2003, the second generation of flat-sealed tempered vacuum glass products was invented and obtained Chinese and American invention patents. At present, the third generation of all-plane tempered vacuum glass structure without protruding is on market, and the single-layer tempered vacuum glass has a temperature difference of 100℃ inside and outside.
ICESUN's world-first vacuum eye technology allows users easily to find whether the glass seal leaks without any professional instruments.
The mass production of tempered vacuum glass is a worldwide problem. ICESUN has world leading tempered vacuum glass production technology. Tempered vacuum glass is widely applied for doors and windows, curtain walls, freezers, flat solar panels, cars and ships and other fields.
Company Name: ICESUN VACUUM GLASS LTD.
Representative: Xiaoming Du
Product/Service: Vacuum Glass , Tempered Vacuum Glass , Vacuum Glazing , Low-e Vacuum Glass , Vacuum Insulated Glass , Building Glass
Capital (Million US $): 30,000,000RMB
Year Established: 2013
Total Annual Sales Volume (Million US $): US$5 Million - US$10 Million
Export Percentage: 41% - 50%
Total Annual Purchase Volume (Million US $): US$1 Million - US$2.5 Million
No. of Production Lines: 10
No. of R&D Staff: Above 100 People
No. of QC Staff: 21 -30 People
OEM Services Provided: no
Factory Size (Sq.meters): 50,000-100,000 square meters
Factory Location: Mengzhou City, Henan Province, China
Contact Person: Ms. Bonnie
Tel: +86-400-6661611